These are 5 of the largest most massive dog breeds in the world. These dogs are more like ponies when full grown. Whether we get them large, small, short-haired or with giant mats of messy fur, humans sure love their dogs. So much, in fact, that many people (usually celebrities) will even carry tiny pure breeds around in their purses or in their arms. But some dogs are just way too big for the Paris Hilton treatment. No matter how much they try, these 5 dogs are just way too big to fit in a handbag.
Great Dane (German Mastiff)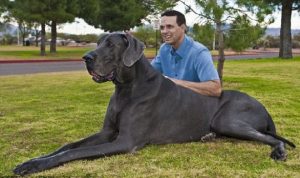 The Great Dane is by far one of the largest dogs in the world, and perhaps one of the most well known. Your average Great Dane can grow to nearly 3 feet tall, dwarfing almost every dog on the planet. With a dog this large you may be tempted to throw a saddle on your doggie and take the neighborhood kids for a ride. The largest known great dane is also the largest living dog in the world. His name is Bentley, and at 38 inches tall, he's likely never going to see the inside of a purse any time soon.
Newfoundland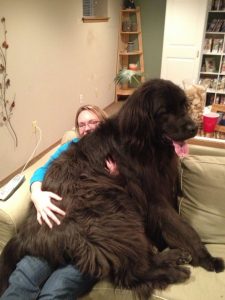 If you're a fan of big dogs that look (and feel) like a shag carpet, you may want to pick up a Newfoundland. More commonly referred to as a "Newfie" by dog lovers, this pup can reach a height of around 28 inches! They may not look it, but Newfies are natural born swimmers. They are often used for water rescues due to their love of water and especially their webbed feet. One of the largest known Newfoundland dogs, Boomer, managed to grow to 36 inches tall. He gives even the mighty Great Dane a run for its money!
Dogue de Bordeaux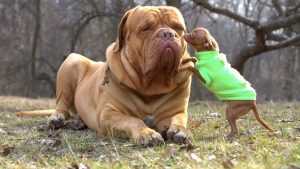 The Dogue de Bordeaux may look short and stumpy in its pictures, but trust us: This mutt is anything but! The Dogue de Bordeaux is a French breed of mastiff that can often grow up to 27 inches tall! This loveable, large breed is said to have the largest head-to-body size of all other dogs. Loyal and friendly, Dogue de Bordeaux are one breed you'll want to lug around with you. But, given that they are a French, you may want to bring a few baguettes for them to snack on.
Cane Corso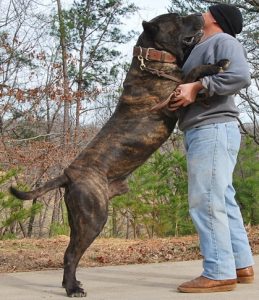 Laugh all you want at the stubby tail on the Cane Corso, but make sure you do so while it's not around! This Italian dog breed grows up to 28 inches tall and can weigh in at over 100 pounds! Although they are certainly trainable, and known to be quiet and calm, these hounds are not recommended for novice dog owners. Strong leadership is needed to reign in their naturally adversarial behavior, and poor training can lead to one big Italian mess! Italians may like their cars small, but their dogs? Well, they definitely come super-sized!
Irish Wolfhound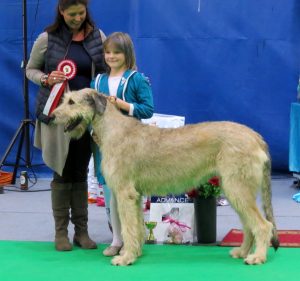 If you're going to hunt wolves, you need a large dog. During the 1500s, Ireland had a bit of a wolf problem, so they called in the big guns: the Irish Wolfhound! This pooch can grow up to 30 inches or more, and while not the heaviest dog around, it is certainly one of the most athletic. The Irish Wolfhound was not only used to keep wolf populations in check, its predecessors were also used as war dogs. Some historians suggest that the breed is one of the oldest in the world, having been mentioned by even the likes of Julius Caesar. Irish Wolfhounds may even date back to 7,000 B.C.! It seems this is one breed that definitely has the luck of the Irish!