Being in love…is a wonderful thing. Getting married in most of these strange wedding venues…not such a good thing. While some are romantic..most are crazy and some are just plain disgusting.
Destination weddings are all the rage these days, but most people choose more common locations. Beaches in the Caribbean or villas in Italy are usually what lovers shoot for. But not all wedding locations are full of sand and wine. These 10 wedding venues are so strange, you may start questioning if they're real.
Waffle House

The Waffle House is a fan favorite all across the South. But some people love Waffle House so much they end up using it as a wedding venue! Since 2008, at least 3 couples (that we know of) were married next to a large stack of fluffy waffles. One couple even had their rings presented to them, not on a soft pillow, but on a pillowy soft waffle. At least they had the reception dinner plans figured out!
McDonald's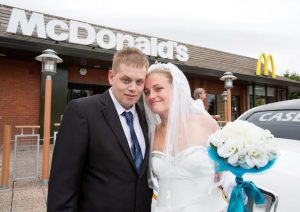 Not to be outdone by Waffle House, McDonald's actually has an official page just for weddings. The only problem? You'll have to go to Hong Kong. McDonald's Hong Kong offers couples everything they could have ever hoped for in a wedding venue, including unique decorations, party games and a side of fries.
Caves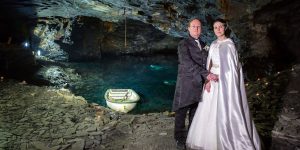 Who needs a beach wedding when you can get married in a cave? Many publicly owned caves are fully happy to host a wedding or two. Lost River Cave in Kentucky is one example. Although normally a tourist destination, it actually rents out the cave for weddings. You, too, can feel like Batman in love by having your wedding in a dark, cold venue surrounded by the beauty of the underground.
Aquarium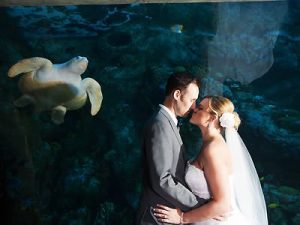 Sleeping with the fishes is usually bad. But if you're falling asleep at an aquarium wedding, you're probably not paying attention! Many aquariums across the country rent out their space for fish lovers who want to be surrounded by sharks and minnows while expressing their undying love for each other. Some couples may have watched The Little Mermaid a few too many times.
Submarines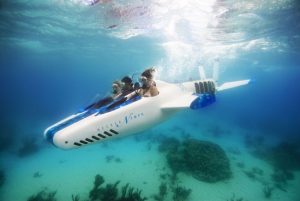 As long as you can get over the feeling of claustrophobia, you too could take the plunge in a submarine! The Atlantis submarine in Hawaii usually does undersea tours. But for those with the cash (over $5000), getting married in a sub could be just the unique wedding venue of a lifetime! Scuba gear is optional.
Treehouses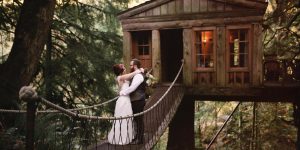 Even Tarzan and Jane had to get married somewhere. Treehouse weddings are perfect for the couple that loves to hug a few trees — and perhaps get married in them as well! Treehouse Point in Washington State not only has treehouses to rent for a vacation — or honeymoon — but provides an excellent venue for nature-loving couples. All that's missing is a few Ewoks!
Sewer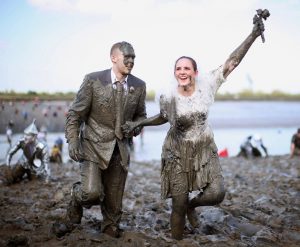 You heard that one right. Some couples are opting to get hitched in the sewer. A sewage treatment plant in Seattle has been advertising its space as a romantic wedding venue. If you can block the smell, and the fact that you're getting married around pipes full of human waste, this may be the perfect wedding venue for you! Especially if you're getting married to a ninja turtle!
Prisons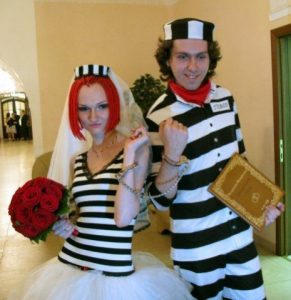 "The 'ol ball and chain" takes on a new meaning for couples who decide that a prison is the perfect venue for a wedding. A lot of old and unused prisons across the world have been converted into wedding locations. This includes an old prison in Maui, Hawaii! Lovers can tie the knot, then spend a few hours locked behind the door of a prison cell. How romantic!
Haunted House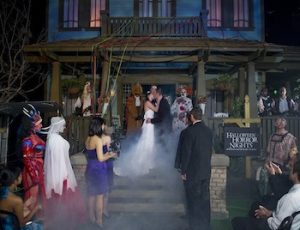 If you ain't afraid of no ghosts, a haunted house could be just the spot you and your soon-to-be spouse were looking for. There are a surprisingly large number of these — at least one in every U.S. state, in fact. Apparently, many couples like the idea of having Casper deliver their wedding vows. Just don't invite the Ghostbusters, and be sure to bring your Ouija board to the reception!
Cemeteries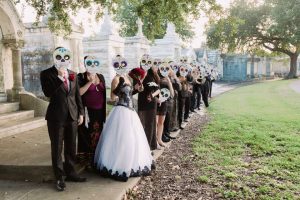 Thankfully, cemetery weddings aren't quite popular in the United States (yet), but they've taken off in the U.K. An increasing number of couples are opting to jump the broom…right into an open grave! Hopefully, the lucky couples are choosing to walk in while "Thriller" is playing in the background!
Like the article? Watch the video its even better!