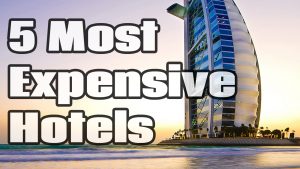 These are the 5 Most Expensive Hotels in the World. Who doesn't love a good hotel room? They're always a fun getaway from the boring old bedrooms that most of us have. But some rooms are more expensive than others, and these 5 may well require you to save money for a few decades before you can actually afford them.
The Burj Al Arab in Dubai
Dubai might be right in the middle of the desert, but for a mere $12,000, you can feel like you're the king of the world. The rooms at the Burj Al Arab are large and luxurious, but it's not the rooms you're really paying for. It's the amenities. Your price includes the option to ride around in a Rolls Royce or a helicopter, access to a private beach and free access to a local amusement park. Who cares if it's in the desert? You'll feel like you're in paradise! Your wallet, however, might feel a little empty afterward.
The Shahi Mahal Suite: The Raj Palace Hotel, Jaipur, India
If you have $45,000 handy — and we know you do — you could be the next to stay in the Shahi Mahal Suite at the Raj Palace Hotel in Jaipur, India. This 17th century hotel provides some to-die-for amenities, including your own swimming pool, your own Jacuzzi, 6,500 feet of princely decorations and your own, on-call chefs. You too could live the life of royalty! But first, you may want to start checking the couch cushions for some spare change.
The Sky Villa: Palms Resort, Las Vegas, Nevada
If you're going stay in the Sky Villa at the Palms Resort in Las Vegas, you may want to empty out the bank account first. For a paltry $40,000 a night, you'll get the best that Las Vegas has to offer. This room comes its own glass elevator, a glass spa, a dry sauna and a dedicated, 24-hour butler, all to yourself. You'll also have one of the best possible views of Las Vegas! Don't worry, you'll be able to afford it — right after you hit it big at the slots!
The Ty Warner Penthouse: The Four Seasons, New York City, New York
The Ty Warner Penthouse at the Four Seasons in New York City is ready and waiting to take a bite out of your budget. This room is worth every penny you pay for it, offering a 360-degree view of America's greatest city, a chemotherapy soak tub, an art concierge, a remote-controlled toilet, your own, personal library and heated floors. The Four Seasons isn't even asking for much. Just $45,000. What a steal!
The Royal Penthouse Suite: Hotel President Wilson, Geneva, Switzerland
With a price tag of over $68,000, the Royal Penthouse Suite at the Hotel President Wilson in Geneva, Switzerland is the most expensive hotel in the world. For that price, you'll get your own, private elevator, a Steinway grand piano, a gym, a pool table, private security, your own butler and even a great view of Lake Geneva. It sleeps six, but has 12 bedrooms. You can easily split that cost with your close friends, right?