We humans are pink soft flesh over bone with no special powers but our whit. Some animals on the other hand have some crazy powerful attacks. If you ever looked at a body builder and feared for your life, you might want to avoid going out into the wilderness. Some humans might be strong, but the animal kingdom is full of creatures that put us to shame. Don your protective body gear, because here are 5 of the most powerful animals attacks in the world!
Anacondas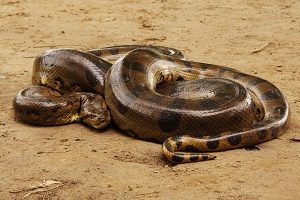 There's a good reason why many people in South America fear the anaconda. This giant snake can grow to be not only 30 feet long, but can weigh well over 500 lbs! Anacondas give the strongest hug in the animal kingdom, squeezing at an incredible 90 pounds per square inch. That's equivalent to a school bus sitting on your chest! These jungle monsters can squeeze almost anything to death, crushing bones and cutting off air supply. One giant anaconda in Brazil even tried to swallow a cow! Thankfully the cow was a bit too large. A human, however, would make a very easy meal.
Great White Sharks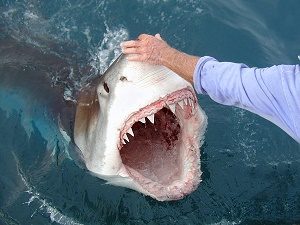 You knew it was going to be on here, but the great white shark's attack is probably stronger than you imagined. Computer models estimate that a great white can bite down with an incredible 4,000 pounds per square inch! That's enough to crush a school bus! Hopefully an empty one, that's not full of frightened children. Great white sharks have been known to rip the bars of shark cages. Oh, and that bite force? It's only an estimate. No one in their right mind has actually studied a great white's bite force in person.
Saltwater Crocodiles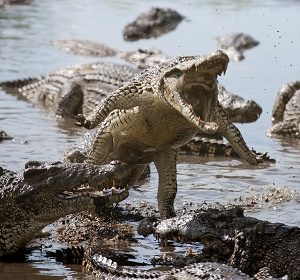 Great white sharks might have the strongest estimated attacks, but saltwater crocodiles have proven their worth. These living dinosaurs can attack with a frightening 3,700 pounds per square inch! If that doesn't scare you enough, consider this: it only takes around 250 psi to crush bones. Even a concrete block can only withstands between 1,000 to 5,000 pounds of pressure. You might want to think twice before wearing armor made of concrete the next time you fight with a crocodile!
Gorillas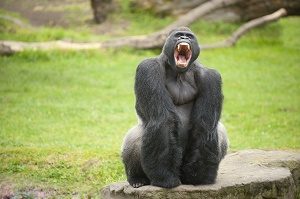 Gorillas have one of the strongest attacks in the animal kingdom. It's bad enough that gorillas are 6 times stronger than your average man, and have a grip strength over over 1,000 lbs. Gorillas can also chomp down on objects with a force of 1,300 pounds per square inch! So in case you're counting, yes, there are at least three reasons why a gorilla could hurt you pretty badly! Maybe it's time for us humans to just step aside and give the planet over to the apes?
Hippos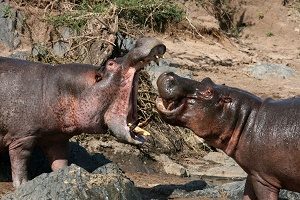 Hippos might look nice, but you don't want to get on their bad side. These thick-skinned animals love water, but they also love to bite! And with a bite attack of over 1,800 pounds per square inch, you may want to think twice about trying to pet one! A hippo's attack could easily crush an average wooden table right in half. Thankfully, hippos are fairly peaceful plant eaters — as long as you stay away from them, that is. One man even got halfway swallowed by a hippo and barely lived to tell the tale. He suffered a few injuries, including an arm that was almost completely crushed. The next time you go on an African safari, just remember: it's really the hippos you have to worry about!