Skylodge: Calca, Peru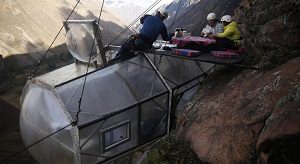 If you're afraid of heights, you'll probably want to keep steer clear of the Skylodge! This mostly-transparent room gives visitors a nice, mountain view in Peru. The only problem? It's on the side of the mountain, suspended in the air by (hopefully) strong metal cables. This small room allows you to live out your wildest, plummeting-to-your-death-off-the-side-of-a-cliff nightmares, all for a low, low rate of only $400 a night! If for some odd reason the secure lines did break, well…you have a mere 400 meter drop into the welcoming arms of the Urubamba River below.
Das Park Hotel: Linz, Austria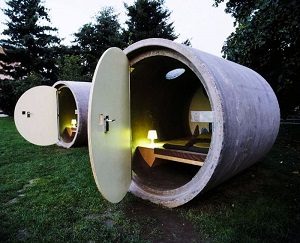 If you always dreamed of spending the night like a Ninja Turtle, the Das Park Hotel in Linz, Austria might be what you're looking for! What looks like a bunch of giant, concrete sewer pipes is really your little slice of heaven. Each one is a small room, perfect for resting your head and sleeping the night away. The rooms are described as "comfortable", and each has one small hole cut out in the top to let in a little natural light. Unfortunately, it does not come with pizza. At least they let you pay whatever you want to for the room!
Icehotel: Jukkasjärvi (you-cuss-yur-vee), Sweden

Dear parents: you may want to cover your child's eyes and ears before we proceed! In Jukkasjarvi, Sweden, someone decided to make a hotel completely out of ice! Yes, you and your family can remake Frozen to your heart's content! The Icehotel melts every spring and is remade every winter. This gives the owners the chance to redesign the rooms. Although everything in the room is indeed made of ice, don't worry. They at least give you a few animal-fur blankets.
The Hobbit Motel: Waitomo, New Zealand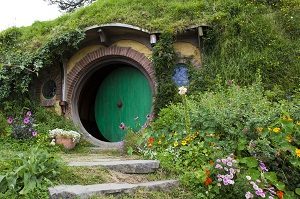 Fun fact: the movie The Hobbit was filmed primarily in New Zealand. It should come as no surprise that someone in the country decided to capitalize on this fact with the Hobbit Motel! This motel is, you guessed it, designed to look exactly like a hobbit house from the film. For $300 a night, it includes all of the hobbit-like trappings, from a round door to wood furniture. There are also other odd sleeping accommodations nearby, including a motel in a boat, a train and an airplane, But there's only one motel room to rule them all!
Free Spirit Spheres, Vancouver Island, Canada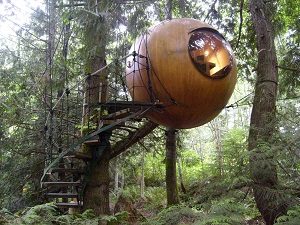 For those of you with a bit of a free spirit and $200 extra dollars sitting around, there's the Free Spirit Spheres in Vancouver Island, Canada. These little round rooms are already odd enough. Add to that the fact that they're suspended by ropes from trees, and you have one of the strangest sleeping arrangements around! If you're afraid of heights, there is some good news: some of these spheres are only a few feet off the ground. That does not keep them from swaying back and forth in a gentle breeze, however.